When I first met
Daenna Van Mulligen
at EAT!'s volunteer appreciation party, I had no idea I was talking to one of
Canada's biggest names in the wine industry
. As her
numerous
online
bios
indicate, "In Canada, Daenna has become the
go-to person for online wine knowledge
."
Her two sites,
Wine Diva
(her tongue-in-cheek approach to wine) and
Wine Scores
(her response to constant requests to score wines out of a 100-point scale), together
pull in a combined 735,000 hits per month
.
If that weren't enough, Daenna's also incredibly active in both the Canadian and international wine scene.
You name it, and this
wine writer
,
wine educator
,
accredited sommelier,
and
Vancouverite
has probably done it
.
In addition to regularly contributing to Canada's
Vines Magazine
, the BC Liquor Stores'
Taste Magazine
, and
Foo
d Vancouver
, she reviews wine each Saturday on Terry David Mulligan's radio show
The Tasting Room
,
and makes regular appearances on
CityTV
's Breakfast Television and Lunch Television.


Daenna has also had significant roles in Vancouver's restaurant industry and at
many top
wine and food events
: Among other things, she's developed and consulted on wine lists for numerous Vancouver restaurants, hosted the wine stage each year at
Eat! Vancouver
and
Eat! FraserValley
, and presented and served as a panelist at
Cornucopia
, Whistler's premier wine and food extravaganza.
Daenna's wine expertise has also been sought to help judge wines for such events as
VinItaly
(the world's largest wine fair), and
ViniPax
in Portugal.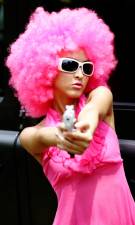 Now, she's here to give us the exclusive on how she got started, what it's like to be a Wine Diva, and much, much more!

---


What drew you to wine, and what led you to specialize in it?
I began seriously drinking wine in 1995 when a friend (now my husband) introduced me to
Wolf Blass
Cabernet during a trip home to Manitoba for Christmas. We both grew up in Brandon, Manitoba. I still say he wooed me on Wolf Blass.
I was fortunate enough to visit
the winery in Barossa Valley
this past February.
From that point on, we made it a point to travel to local wine regions (BC, Niagara Ontario, and Oregon) and learn as much as we could -- tasting, trying new wines and reading. It was when we moved back east to Toronto in 1999 that I lucked into taking
the sommelier program at George Brown College
and became an accredited sommelier. I had previously worked in restaurants and knew that I was not cut out for that line of work, so my goal was always to write about wine (and food initially).
I had taken journalism and writing night courses at Langara in Vancouver and Ryerson in Toronto, so I had some writing experience, but very little. And having very little experience makes it hard to be hired, or to be taken seriously as a wine writer, so I started teaching, public-speaking and lecturing about wine part time.


How did you come to be a "Wine Diva"?
When my husband and I returned to Vancouver in December 2003, I knew it was an opportunity for a fresh start, and I wanted to fully immerse myself in wine -- not just enjoy it as a hobby (collecting thimbles would be far cheaper than collecting wines for the cellar).

So, in February 2004, I told my husband I wanted to start a website to write about wine -- after all, no one was going to hire me, because no one knew who I was. I told him I wanted to called "Wine Diva" (after drinking several bottles of wine).


He didn't like it -- he thought it had bad connotations. But I insisted, and we bought the site name and launched a simple blog-type site, decorated with my own hand-drawn illustrations that I filled in with tasting notes from bottles we bought and tasted. I gathered names and started a newsy-letter I sent out every two months.
Meanwhile, I was working in a wine store in Kitsilano called Vintropolis, and I was also the sommelier for the attached wine bar of the same name.
I had 75 hits the first month I launched WineDiva.ca, which was very impressive (or so I thought). I never, ever anticipated that, five years later, I would be getting nearly 750,000 hits per month... especially since I had no computer abilities. Seriously, my website was virtually my first foray into the internet.
Winediva.ca looks like such a fun site! How did you think up the concept for it? Did you have it all mapped out in your head, or did it emerge bit by bit? When did it all come together?
It was without a doubt, a process -- don't let anyone tell you differently. But I had a couple things in my favour: one, I love colour (high impact) and two, I was a clothing designer in my previous career.
Visuals are very important
: colour, balance, lines, and recognizing trends and the speed at which they change. From my early days living in Paris (when Grunge was just taking off across the world in Seattle), I saw the world of fashion begin to change. No longer was Paris couture dictating the fashion world -- street wear, and urban dissent were.
I worked between Asia and Vancouver for several years, designing clothing and watching trends. People were getting busier, and with more magazines, websites, technology and information bombarding us every moment of the day, who had time to stop and read or peruse all that? In fact, here I am blathering on, and it's way, way too wordy!

I watched the shift from ten-page Vogue spreads to "sound bites" of colour in new magazines -- one page with brilliantly-coloured snapshots of the hottest shoes, bag, dress and lipstick, designed to appeal to the masses and give as much information in as little space as possible.


Basically my site evolved to do just that -- provide impact, colour, pictures and easy-to-read reviews for the 98% of the population who are not wine geeks.
How about winescores.ca? How did that come about?
There are two camps of wine drinkers. Those who love to recite wine scores from famous wine critics, and those who don't give a da*n.
I've always said WineDiva was not about "scores" and I had no intention of that changing. But, after constant requests to score wines out of the 100 points scale that has become the accepted international scoring method, I started to capitulate.
My business partner/husband and I worked on a plan for about eight months. The plan was two-fold: 1) to build a secondary site with serious content and wine scores on all of my wine reviews that would benefit WineDiva readers who wanted more or who were becoming more knowledgeable, and 2) to show that I was not a pink flake who really knew nothing about wine.

I have never needed to prove to my peers what I know about wine -- in fact, I go out of my way to hide it. Yammering on about your wine knowledge often makes you a bore, especially when you are yammering to other wine geeks. I call it "talking to the mirror".


WinesScores.ca proved to critics that I knew what I was talking about, it gave score lovers something to reach for and, in the end, it also gave me a fabulous outlet to write about my wine travels.
What's it like to manage two websites at once? What made you decide to make two separate sites instead of putting all the content into one?
I think I answered that above. But having two sites is simply double the work...
What's it like having more than 500,000 hits a month on your page? What do you do to maintain and increase that number?


A surprise, but a pat on the back for a lot of work.

The sites are now pulling in a combined 735,000 hits per month and growing.
To maintain and increase my number of visitors involves providing quality content and information, and making the sites more user-friendly. Word of mouth is how we got here -- now we work hard on keeping and maintaining the momentum.
How did you get into doing interviews with radio and TV stations? What's it like?


Same thing -- through word of mouth and a solid five+ years of writing about wine on WineDiva.ca.
People see my sites and hear about me via other mediums, and it's a snowball effect. I have never gone out and promoted myself, except by simply showing up and doing my job.
I have never been a nervous person in front of crowds. Give me a mic or a camera, and I am happy as long as I am familiar with my subject matter. Wine is second nature to me now, and no matter how much more I could (and want to) learn, I am comfortable enough in my knowledge right now to jump in front of an audience and talk wine at a moment's notice.


I like to make it fun, like to be funny and like it when people get that "ah-ha" look on their face. It means I have shared something with them they did not already know.


How do you like judging wines?


It's very, very good training and important to understanding quality, typicity and character in wine. There is no better way to become a better taster once you've gotten to a certain level in wine.
Of your many wine-related jobs, which do you enjoy most? Which aspects do you like best?
The freedom to choose what to write about and to work for myself and choose my own hours.
Where have your journeys as a wine writer taken you?
In the last year, all over the world. Italy twice, Germany, Portugal, California, Australia, South Africa, Chile and here in British Columbia of course...
Between September 2008 and February 2009 I was in wine regions on five continents.... but prior to that, other regions in Greece, France, Washington State, Oregon and Niagara Ontario.
So you get paid to travel the world, drink great wine, and eat great food. How awesome is that? How exactly does it work? How long did it take you to get to the point you're at now?
There was no single "starting point" for me. You could suggest it was 1993 when I worked with wine in restaurants or in 1995 when my husband really turned me on to wine. Or, when I became a sommelier in 2001 or when I started my site in 2004....
Basically it took me three years after WineDiva.ca was launched to get enough notice worldwide that I was going on trips -- first just within BC, then Washington State, then further abroad.
But it's not about "free stuff", being a writer -- a mistake most wannabes make. You have to prove your worth, have people follow your writing, and prove you are not only capable, but easy to get along with. Most important of all, you must be reliable.
I just kept chipping away, giving my all, and producing... the rest fell into place as people began to notice that I was serious and hardworking.
What's the best work-related trip you've ever been on?
I cannot say. I honestly love all the regions I have visited for different reasons: Germany's stunning, steeply-planted Riesling vineyards, South Africa's rugged beauty and old-world/new-world charm, Australia's laid-back allure and incredibly varied terroirs, Portugal's tradition, uniqueness and captivating stubbornness, Chile's purity and incredible scenery, California's quality and diversity, and Italy... well, Italy's pure romance...
What's the most interesting food you've tried during your wine travels?
Regional diversity -- the cuisine of each region paired with its wines -- is always the most interesting. The dishes are not always to my taste, but they have interesting history and are often subtly tweaked from place to place -- Italy's food is a classic example of subtle shifts in cuisine from province to province. It could be how they prepare the cingale (wild boar) or if they use risotto or pasta as their starch.
In Portugal, cod is a mainstay (even though cod has been fished to extinction in their own waters, they buy it from Sweden) along the Atlantic; in Bairrada, suckling pig is the favoured dish, and in Alentejo, porco preto (or black pig) -- similar to wild pigs -- is the meat of choice; all pair well with their regional wines.
In Australia, food is fresh, simple and modern with strong Asian influences, and in Germany, the schnitzel and potato dishes and copious spargle (white asparagus prevalent in May to June) topped with Hollandaise, are perfect with a Riesling...
What's your secret spot to enjoy a drink in the city?
At home, usually -- especially in the summer. My husband and I are early day people, so we tend to go out in the afternoons and have wine with lunch. I love
Nu
for the views, but anywhere I can get a glass of bubbly in a nice, quiet atmosphere is great.
What's your favourite wine, and where can we find it?
Whatever I am drinking at the moment -- it's summer so I am all over summer sippers -- Roses, Gewürztraminers, Pinot Blancs and of course my favourite -- Rieslings!
---
Rieslings are some of my favourite wines too!
If you have any questions for Wine Daenna, now's your chance to probe!
Cheers!