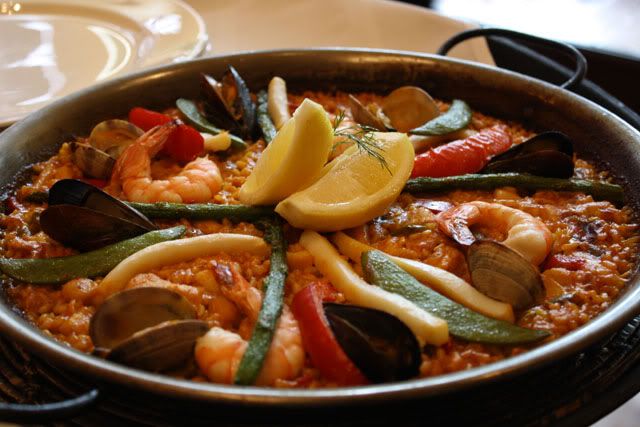 J
said... Find me a good paella place, preferably in the cheap-moderate price range, good value, family atmosphere, etc :)
May 27, 2009 9:40 AM
According to studyspanish.com, "Paella is a traditional dish of Spain. Its home is Valencia, but variations exist in the different Spanish provinces. A colourful mixture of saffron-flavored rice and various meats, paella's name comes from the paellera, the flat, round pan in which it is cooked. Traditionally, the paella is cooked out of doors, over a wood fire."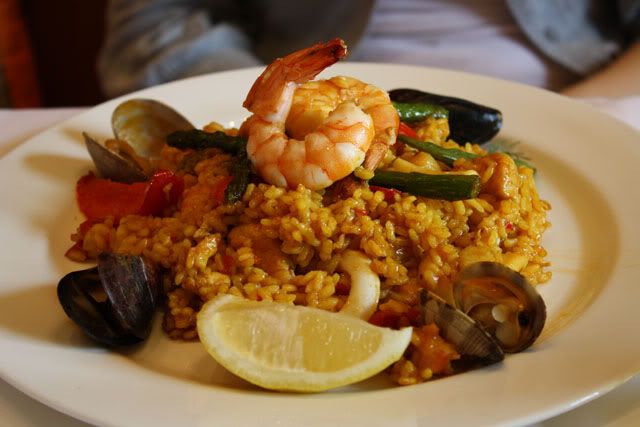 I don't know what makes a "good" paella (I've never had an authentic, homemade one before), but I highly recommend the paella at the
Diamond Alumni Ce
ntre
(SFU Burnaby Mountain -- on University Drive East at the north end of the SFU campus, overlooking Indian Arm and Deep Cove), where I tried my first one.
I loved every bite -- from the yummy seafood (mussels, shrimp, etc.) and veggies to the yellow saffron rice. The lemon-blueberry cheesecake I had for dessert was also amazingly good (see below for someone else's photo of it), and I hardly
ever
find a cheesecake I really like.
I know that the great meal I had at the DAC wasn't a fluke because I attended a wedding reception catered by the restaurant a few years later, and found the food there to be better than any I've tried at other Lower Mainland buffets -- including several more-expensive ones at hotels. I enjoyed every one of the desserts they had available (and there must have been around 20 different kinds!),
especially
one of the cheesecakes, which was up there with some of the best I've ever had. But I digress.
The Diamond Alumni Centre is one of my favourite secret spots, and not only is their paella super-tasty, it's also one of the least-expensive in the Lower Mainland.
Sadly, I don't think that paella is a regular menu item anymore. I know that the DAC still serves it, because a menu from a Mexican-themed lunch buffet it had back in May listed "Spanish paella" as one of the entrees, but I'd call to check whether or not and when it's available.
I've had paella at
La Bodega Restaurant
(1277 Howe Street) as well, which neither I nor my dining companion liked. Although the restaurant is known as one of Vancouver's most authentic Spanish tapas places, we found its paella to be dry and unflavourful, with only a small amount of seafood. To the left is a photo of La Bodega's "Paella de la Casa" from its website.
The only thing I liked about the paella was the price -- I remember that it wasn't too expensive -- maybe around $10.95? Back when I had it,
reviews
described La Bodega's paella as "lacklustre" and "oversalty"; however, I've also seen other reviews that have been more positive, so it wouldn't hurt to try it yourself, as it's quite affordable.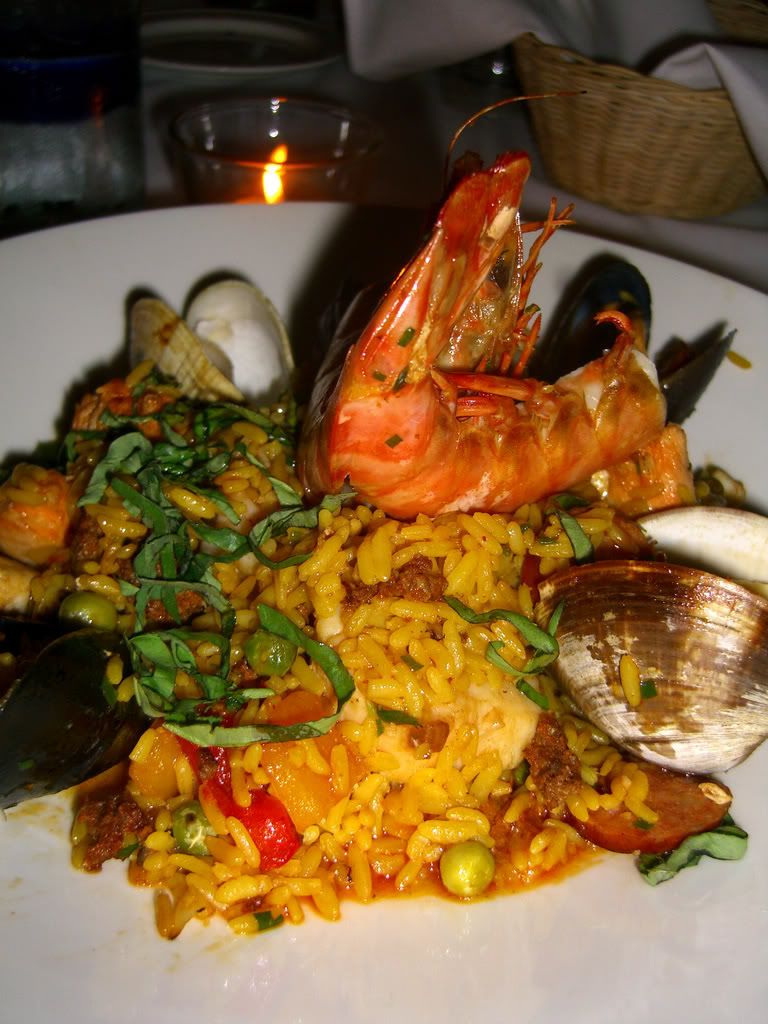 To get a more holistic view of Vancouver's paella offerings, I looked through reviews of pretty much every restaurant serving paella in the Lower Mainland. Sadly, I haven't found one place that garners consistently good reviews about its paella.
Here are some of my findings:
Latin Quarter

(1305 Commercial Drive):

Apparently, their $45 paella (meant for two people) is their house special. Here's what one reviewer from Feb. 2007 had to say: "Disappointing -- flavourless -- boring!! ... My partner and I shared the paella which is their signature dish -- which I guess at $42 [old price] just means it's the dinner with the most profit in it for them. Mussels undercooked, shrimp overcooked, rice flavourless, empty clam shells -- If they think that's how paella is meant to taste they had better go back to cooking school -- I won't go on -- but I definitely won't be going back to this sham of a restaurant. I think enough said about this place -- you have been warned! There are plenty of great choices on The Drive but this one is certainly not one of them." Later reviews and comments all appear to show that nothing has improved over time.
Baru Latino

(2535 Alma St.):

Their $20 "Paella Classical" consists of "Spanish chorizo, mussels, prawns, chicken and halibut, rice, fresh cilantro and smoky tomato salsa, served with homemade flatbread. One reviewer from May 2008 commented that "... Baru's paella tasted more like jambalaya than it did paella."
Me & Julio (2095 Commercial Drive): Their $18.25 paella consists of "smoked chicken, red wine poached chorizo, poblano peppers and fresh local seafood steamed in a spicy tomato and saffron stew, [accompanied with?] crispy chili plantains." Of the many reviews I found on it, none made it sound particularly good:
From May 2009: "The paella entree was probably the weakest of the items we chose. However, my dear husband liked it. It had nice, fresh seafood and decent flavour -- I just found it had too much broth for my liking."
From August 2008: "The food is good, but I must say I was a bit underwhelmed each time. On my dinner visit we tried the tortilla soup (sopa de tortilla) and paella –- both which were a bit light on the spices..."
From May 2008: "[the paella] was bland and uninteresting. It seemed to cry out for salt, but at the same time one knew that would simply change it, not improve it."

Other restaurants that have had mixed or no reviews about their paella include --
Chivana Restaurant Bar Lounge (2340 West 4th Avenue): They have two kinds of paella. Their Havana-style paella ($21) is a "fresh mixture of shrimp, chorizo sausage, scallops, black tiger prawns, chicken, mussels and daily catch with saffron, pineapple and lime, coconut sauce", while their vegetarian paella ($14) is a "fresh mixture of green peas, broccolini, sugar snaps, snow peas, baby carrots, bell peppers, cherry tomatoes, and saffron, pineapple and lime coconut sauce."
Century Restaurant & Bar (432 Richards St.): Their $18 Spanish paella consists of "saffron rice, halibut, mussels, clams, prawns, seasoned chicken, chorizo sausage, lemon, green peas, and sweet peppers."
Senhor Rooster Restaurant and Catering (850 Renfrew St.): This Portuguese Restaurant serves paella that's a whopping $29.95 -- a "rice casserole with mussels, clams, prawns, pork, chicken, and chorizo."
Senova Restaurant (1864 West 57 Avenue): This Portuguese and Spanish restaurant dishes up seafood paella every Sunday. From the description of the Spanish paella they served during their Spring Paella Festival this May, it likely consists of "clams, mussels, shrimp, calamari, chicken, chorizo and porti."
Senova's owner and sommelier, Manuel Ferreira, was invited to
prepare pael
la for EAT! Vancouver 2009's International Culinary Stage
-- which might indicate that Senova's paella should be particularly good -- but I haven't found a single review that mentions Senova's take, except
the following review
, which also discusses Senhor Rooster's paella:
"I have heard really good things about the food [at Senhor Rooster] from some of my friends. It's not the greatest 'hood but not bad. I also heard that he will make things that are not on the menu if you call ahead and a friend of mine says that the Paella there is fabulous (you have to call ahead for it I think) which is great as someone else told me they were really disappointed in the Paella at Senova. Having said that, isn't Paella a Spanish dish?"
La Masia
(19209 Fraser Highway) also serves paella, though you won't find it on the menu. A Spanish friend of a colleague of mine said that the paella there was very good and was authentically made by a Spanish family, so I emailed them about it, and here's what they had to say: "We serve paella when people ask for it when they come for dinner; we make it for two people or more; it is a seafood and chicken paella and it is $30.00 per person."
In the end, I still recommend trying the paella at the Diamond Alumni Centre. I can vouch for its great taste, and it meets all of J's criteria: It's moderately priced, set in a great atmosphere (with a gorgeous view), and delivers great value.
Now that you have a list of the great majority of places serving paella in the city, you can try whatever sounds good to you.
If you have a favourite paella place or have had a poor paella experience, let us know.