Who'd have thought my first trip to New York would inspire me to write about Quebec food? Six days of stuffing myself with "New York food" -- or at least my definition of it: foods specific to New York (re. NY bagels, pizza, cupcakes, egg creams, bialys, pastrami sandwiches, reubens, etc.) -- made me appreciate all the fantastic foods that you can really only find in Quebec.
While I'm still no expert on Quebec food, I have lived in the province of Quebec for the past six months (including Christmas, during which I was able to sample homemade Christmas-only foods at four traditional Christmas dinners I was invited to attend). Living in a city famed for its apple orchards (and accompanying apple ciders, juices, donuts, pies, etc.), and located just 45 minutes away from Montreal's delicious food scene has also allowed me to sample some uniquely Quebecois foods.
For the most part, for me, "Quebec food" beats "New York food" hands down.
Here are 15 foods that should convince you why:
1.
Schwartz's smoked meat sandwiches
(sandwich à la viande fumée de chez Schwartz`s -- see above picture). Love at first bite. I've had a really good smoked meat sandwich before (several, in fact), but Schwartz's manages to elevate it somehow. The meat just tastes 10x better. You have to eat it to believe it.
I did have a few issues about my Schwartz's experience however, the biggest being the fact that they gave me a fatty sandwich as opposed to the medium I ordered. Unless I'm mistaken, a medium should not contain three globs of fat each the diameter of a fist. As well, the staff took the order for a large group of people before they took mine, despite me being ahead of the group (did they think I stood in line for over 20 min just to take in the scenery?). The accompanying rye bread was also "meh". However, the meat made it all worth it.
If you're not that into meat, it might not wow you as much as it wowed me. What you see is what a get: two pieces of bread, and a whole lot of meat. Mmm.
2.
Poor man's pudding
, or pudding of the unemployed (
Pouding chômeur
). Given the amount of pure maple syrup that goes into the best versions of these cakes nowadays, I don't think poor people could afford to eat this. Watching one being made (I saw the process twice) is insane. Once the batter for the cake is laid down, the maple syrup-based sauce i
s poured
on -- the volume of which is equal to that of the cake itself. Once you take the pan out after baking, however, all
you see is the cake, because the sauce has seeped in to penetrate every pore of the cake.
The first version I tried of this cake, at St. Hubert, was actually quite quite tasty, though a bit pricey ($4.95). It was actually better than s
ome of the homemade ones I've tried.
The version I enjoyed most was one that was actually featured in Montreal's
Chez Ramezay
museum`s
exhibit
on the top ten Quebec foods (the recipe of which we tried before seeing it exhibited). My friend replaced the corn syrup with maple syrup, and it was like my Schwartz's experience repeat
ed with pudding chômeur. Of course, it could have been due to the fact that my friend is one of the best cooks I have ever met. Everything she makes is better than any other version I've tasted.


3. Sugar cream pie (Tarte au sucre à la
crème
). Not to be confused with tarte au sucre, which has a completely different consistency and taste. Sucre à l
a
crème
(sugar cream fudge) is a
heavenly type of fudge made in Quebec (see below for longer description). I actually prefer the sugar cream pies you can find at Quebec grocery stores like IGA and Metro, which have a
stronger sugar taste. I find that ones from apple orchards, farms, or outside boulangeries have very little brown sugar in them and therefore end up tasting more like fruit pies than anything
else. I prefer my tarte au sucre à la
crème
plain.
For some reason, I can`t find any photos of this kind of pie online, so here is one that someone claims is sucre a la crème (but looks more like tarte au sucre).


4. Sugar pie (Tarte au sucre). Lighter than sucre à la
crème
p
ies. For a while, I thought I didn't like these until I ate a homemade one during a Christmas party I attended. When they are good, they are very very good. You can find these in Vancouver at select restaurants, but they`re just not the same.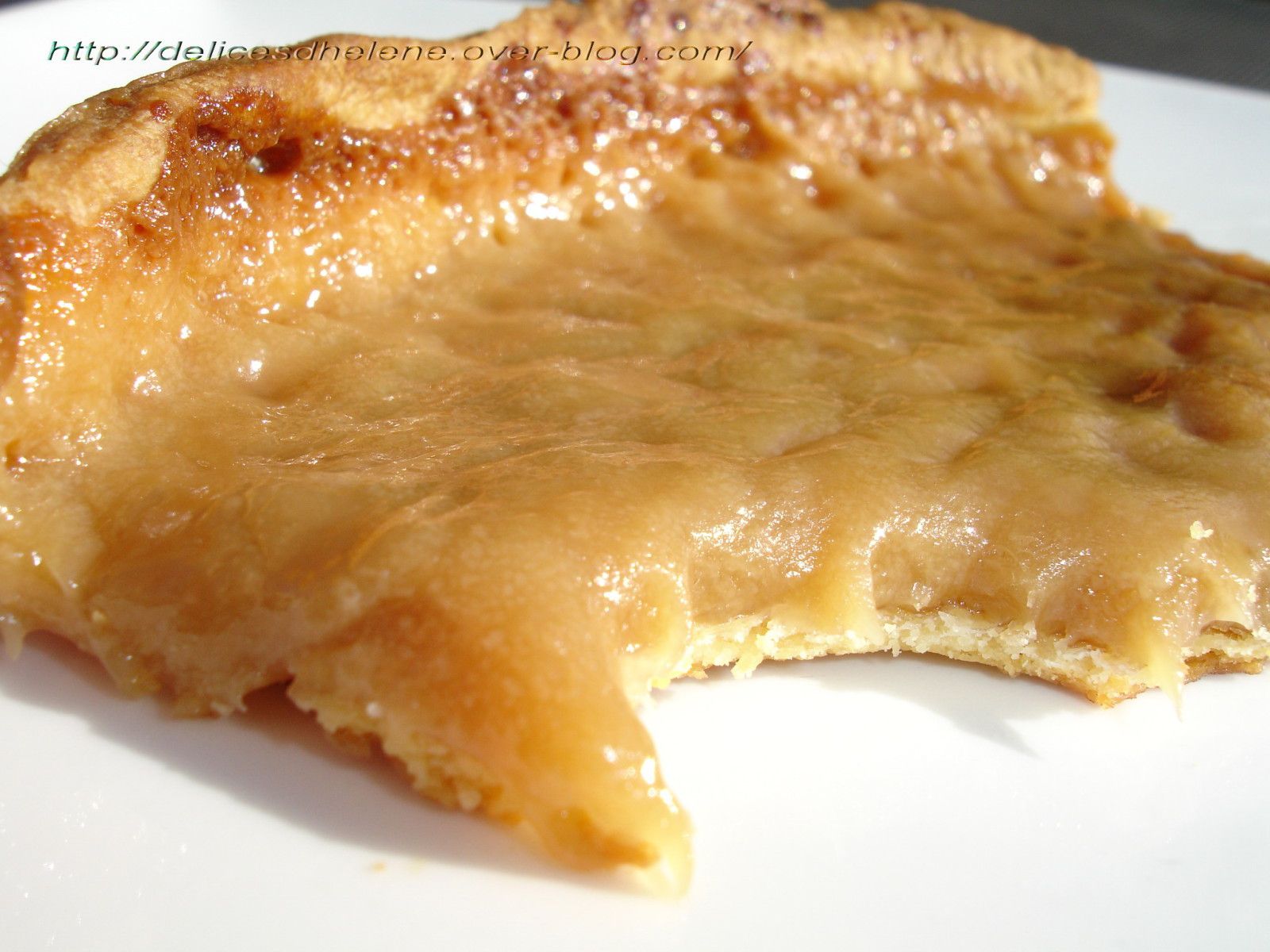 5. Sugar cream fudge or maple syrup sugar cream fudge (sucre à la
crème
/sucre à la
crème
l'érable). Sugar, brown sugar, and 35% cream make up this delicious quebecois fudge. The best one I tried was at a Quebec food festival that was like Quebec`s version of Eat! Vancouver. Homemade is usually better than store-bought.
6.
Ragoût de boulettes
(a kind of meatball stew with no English translation I can find). The best are simmered for hours, and I have tried the best. This is a traditional dish that people usually only make around Christmas time.
I still haven`t tried one of these meat pies that wasn`t store-bought (it was the one thing no one actually made for Christmas dinner), but apparently the ones from Lac-Saint-Jean are amazing. You really have to know someone from the area who can make one for you if you want to experience the real thing, though. I wish I`d gotten a chance to try some while I was in Jonquière. :(
8.
Apple donuts
(
beignet aux pommes
). I`ve had these done two ways: one featured apples sliced into rings (like pineapple rings), then fried in batter and sprinkled with powdered sugar. The second featured apples cut up into little pieces, made into a dough, then fried. Both are ridiculously good, but must be bought fresh from an apple orchard for maximum tastiness! Lineups for these things are insane (around 20 minutes)! Some orchards offer day-old boxes for half the price (re.
Denis Charbonneau
).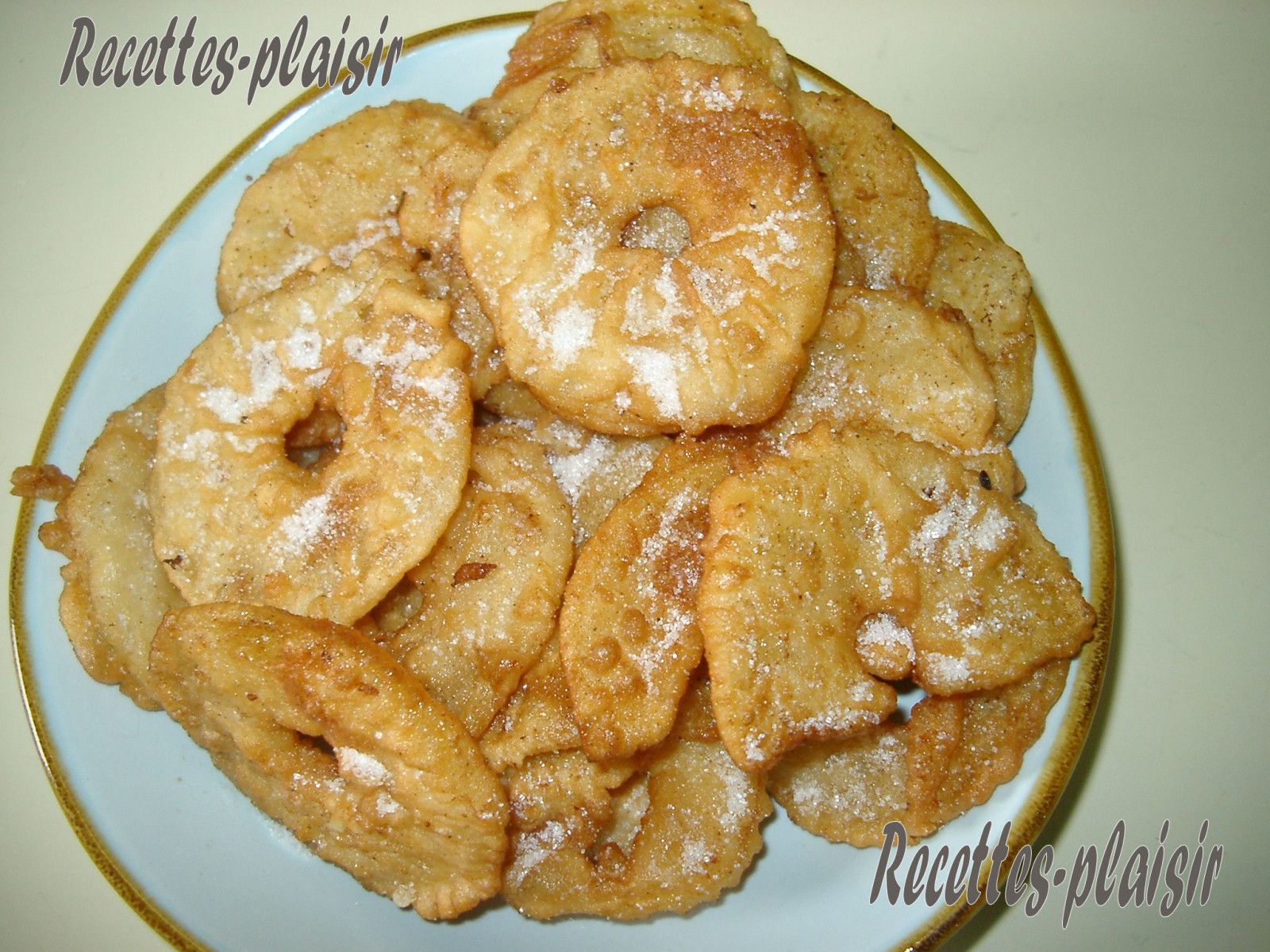 9.
Pure maple syrup
(sirop d`érable) and related products. In Quebec, using Aunt Jemima-electricity pole syrup (as opposed to the real stuff) could be likened to a crime. Note that maple syrup comes in many grades, all of which taste different -- all the more reason to taste them all. :P
There are also multiple forms of maple: maple sugar, butter, etc.
Tire d`érable
or tire sur neige (maple taffy, or sugar on snow) is a must-try -- maple sap boiled past syrup form poured on snow, then wrapped around a wooden stick as it cools. You`re apparently a true Quebecor if you can eat seven of these in a row.
10.
Maple syrup or Cabane à Sucre ice cream
. Forget Breyers maple walnut ice cream or the kind with pieces of maple sugar throughout. Fake maple ice cream is just plain gross in my opinion. If you must choose a commercial brand, I would go with
Real Dairy
, which I think uses real maple syrup. For people in Quebec,
Bilboquet
and
Coaticook
are among the better brands for maple-flavoured ice cream.
My new favourite ice cream flavour is Cabane à Sucre, which you can find in pretty much any crèmerie (ice cream shop) by the scoop. It has real tire d`erable in it, and is absolutely heavenly for those with a sweet tooth. Apparently Bilboquet has it during sugar shack season, and while I haven`t tried their version, I can only imagine it would be as good or better.
11.
Ice cider
(cidre de glace). One of the biggest perks of living in Mont-Saint-Hilaire has been all the apple products I`ve been able to try. Ice cider is one of the best among them, and I`ve had more free or $1 award-winning samples than I can count.
`Ice cider ... is Quebec's very own creation ... A number of craft cider producers -- centred in the Eastern Townships southeast of Montreal -- came up with the idea of letting their apples hang late into the autumn. After the frozen fruit is picked, its concentrated nectar is separated from the crystallized water around it. Once fermented, the syrupy liquid yields an ultrarich, amber-coloured indulgence -- usually measuring 12 per cent alcohol -- that's delicious on its own as a dessert drink or as a sublime partner for such fare as sautéed foie gras or a plate of crumbly blue cheese and toasted walnuts. It should always be served cold.``
My favourite is a gold-medal-winning one from the Eastern Townships -- I've forgotten the name though. :P

12. Sugar shack meal. (repas de cabane à sucre). No trip to Quebec in March/April is complete without a visit to a cabane à sucre (sugar shack). There, you`ll be able to try a bunch of traditional Quebec foods, all drenched in maple syrup, with the option of adding more (you`ll find a pot of maple syrup at every table).


French Canadian pea soup, cretons, sausages, ham, omelettes, oreilles de crisses (`Christ`s ears`, salted and fried lard, or pork rind), fèves au lard (pork and beans), sugar cream pie, crêpes, eggs, bacon, and grand-pères au sirop d`érable (deep-fried dough cooked in maple syrup were offered at the sugar shack I visited). Consider yourself lucky if you find one serving eggs cooked in maple syrup, and other cabane specialties.

Menus vary, with some shacks serving as much as 14 kinds of desserts, etc.

Some are buffet-style, while others bring your food to you.

Usually maple taffy is included in the price; sometimes it can be around $4.25 extra. I'm against that.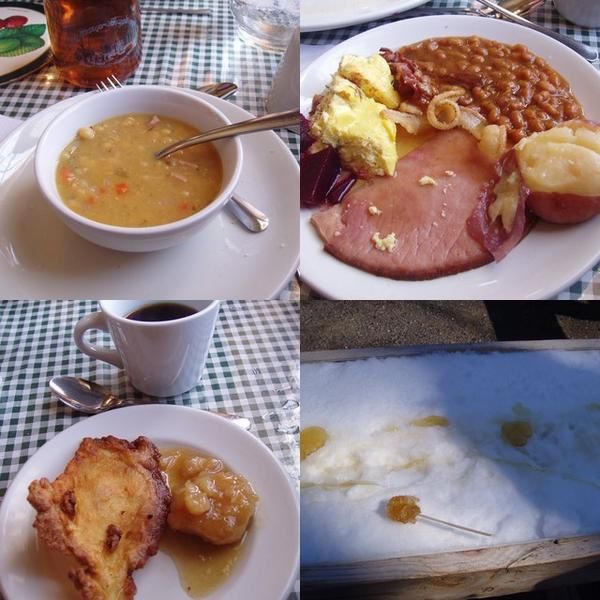 Word of warning: sugar shacks vary in quality. The one I went to was mediocre (re. the sausages were store-bought vienna sausages, and the food all just tasted okay). I can`t complain because it was free -- I volunteered for a daycare outing. Do your research before you go. Small, traditional, family-run cabane à sucres (serving 30-60 people) are probably best. If you`re looking for entertainment, you could go to a larger one, but the food quality will probably go down with capacity.
Word of advice:
Do
put maple syrup on everything, and I mean
everything
. A cabane à sucre is pretty much the only setting where you're actually encouraged to do so, and everything they serve tastes better with more. I recommend adding syrup to a glass of milk -- it was my favourite thing at both sugar shacks I visited, though it was something I mixed myself. Everyone who tried it agreed it was a super-delicious combo. Pure A-grade maple syrup eaten plain with a spoon is also worth trying. :P
13.
Montreal-style bagels
. Hand-made and baked in a wood-fired oven, these bagels are smaller, sweeter, and denser than New York bagels, and I find them wayyy better. The two major places to buy these are
Fairmount
and
St. Viateur
. I prefer Fairmount`s softer texture and greater variety of flavours. Purists will go for sesame or poppy seed, however. My advice: go for whatever`s fresh.
14.
Crêpes
bretonne style -- These crêpes aren't rolled -- they're folded into squares. I recommend going to the Crêperie de Vieux Beloeil for this treat. You can choose to have it in a savoury traditional sarrasin (buckwheat) form or sweet (sucré). This creperie has the biggest variety of flambéed crêpes I've ever seen, and yes, they do light them up in front of you. I thought mine was just ok, because I ordered a flambéed one with bananas, caramel, and rum, and forgot that I don't like rum. :P
15.
Poutine
. Heart-attack in a bowl, and perhaps the most famous food in Quebec. In Montreal,
La Banquise
is known for its huge variety (24 kinds of poutine!), and
Patati Patata
is known for using wine in its gravy. Having tried both, I actually preferred my poutine at
Chez Ashton
, though it's probably not even close to the best in Quebec -- the cheese was so fresh it squeaked at every bite. Also, if you ever end up in the Saguenay, Lac-Saint-Jean area, there's a restaurant in Jonquière that makes superb barbecue sauce poutine. Mmm. Fromagerie La Bourgarde at Thetford Mines is supposed to be fantastic for poutine (too bad I didn't learn that until after I finished my tour of and left the town!).
If you want more suggestions for good poutine, check out this thread: http://www.facebook.com/topic.php?uid=16788998298&topic=5396
Don't eat this too often!
Yule log

(Bûche de Noël -- see above) -- cakes designed to look like a Yule log, served during the Christmas season. I think they taste rather ordinary. I've tried the roll (like Swiss rolls), mousse, and ice cream kinds, and prefer the last version. My friend's version was the best I've tried -- a flourless hazelnut cake with gingerbread trees and bears (see below).


Cretons

.

A pork spread containing onions and spices, similar to French rillettes.




Ground cherries

(cerise de terre) grown in Quebec (I prefer the taste of these to the ones grown down south).



Maple wine (vin d`erable) or Ground cherry liquer (liquer de cerise de terre)
Pommettes d'amour (crab apples in syrup). So simple, yet soooo delicious. Basically, tiny, sugary crab apples drenched in syrup.

Bavette

(flank steak or sirloin tip, according to chowhounders). I had a home-grilled one -- best steak I've ever had.
Pâté chinois (Chinese pie). French-Canadian version of shephard's pie (layered ground beef, corn, and mashed potatoes). This actually counts as Quebec cuisine. The explanation for the name I was given was that this was what was fed to Chinese railway workers in the past.

If you think of a food in Quebec that worth mentioning (and worth me trying before I leave the province in June), don`t hesitate to comment and let me know. I would appreciate the tips. :)
Just please don`t tell me I missed
BeaverTails
(Queues de Castor): those originated in Ottawa, Ontario, AND you can find them in Vancouver, either by that name or by "Whale Tails". :P
UPDATE: After returning to Vancouver from Quebec, I wrote a quirky children's novel loosely based on my experiences in

la belle province

. The plot: a girl likes apples so much that she decides to become a teacher, because everyone knows that being a teacher is the best way to get free apples. The setting: Mont-Saint-Hilaire, the apple-craziest town in Quebec. Find more on the novel and new stories I have written at www.facebook.com/TeachingforApples